Drivers found to have taken drugs face a prison sentence of up to six months and a fine of up to £5,000 under new legislation, ministers reveal on Monday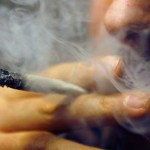 7th May
Plans to make driving while under the influence of drugs an offence will be included in a crime, communications and courts bill that will be in the Queen's speech on Wednesday. Offenders will also face an automatic driving ban.
Police forces are to be supplied with devices that will allow them to test drivers for drugs, once the equipment receives approval from the Home Office this year.
Under the law at present, the police can only prosecute drivers who have taken drugs if they can show that driving ability has been affected.
David Cameron said the government had been encouraged to act by the campaign launched by the parents of Lillian Groves, a 14-year-old from Surrey killed by a speeding motorist who had been smoking cannabis. The driver pleaded guilty to causing death by careless driving and was sentenced to eight months in prison but was released after just eight weeks.
Cameron said: "I found meeting Lillian Groves's family in Downing Street late last year incredibly moving. As they said at the time, it simply can't be right that a schoolgirl … can lose her life and then we discover we don't have the laws or the technology to punish drug-drivers properly. We want to do for drug-driving what drink-driving laws have done for driving under the influence of alcohol.
"That's why we're doing what we can to get drugalysers rolled out more quickly. And this week we'll publish a new drug-driving offence so that driving under the influence of drugs itself is a crime, just like it is for drink-driving."
The new offence will cover drivers who have taken illegal drugs, but the exact drugs covered and the limits that apply will be determined by a panel of alcohol and drug experts.