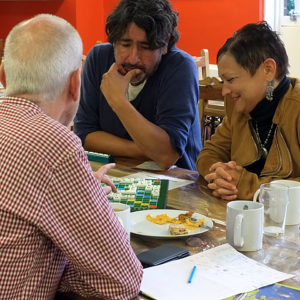 Eagle Wednesday is where we started in July 2011 and is the backbone of our Recovery Project.  We meet at 28B  starting at 5.00 pm and ending at 8.00.  Look at the Contact Us page if you are not sure where we are.. We welcome anybody who is in abstinence recovery from their substance addiction whether alcohol or drug misuse. We also welcome Carers of those in active addiction. We believe the combination of a social group of carer and recovery members encourages understanding of each others pain and perspective of what is going on for the person in addiction, the damage resulting from  that addiction and the misunderstandings that arise as a result.
We provide sandwiches and fruit, tea, coffee and soft drinks so all sandwich makers are welcome!!. Top help people relax we have board games such as Jenga, Connect 4 and Frustration (Hmm!) chess & scrabble (which has become very competitive)
Members in Recovery can participate in a Peer Support Group  which allows individuals to express their feelings about their recovery and the challenges they are facing at each stage of their recovery. This group encourages peers to ask for help and seek ideas and support from each other.
We provide alternative therapy in the form of Yoga for members Just to test our thought processes or concentration we also throw in a Quiz and several Bingo session with small prizes for the winners.
Running alongside the first part of the evening is an IT club where anybody attending can get some help with their computer skills and assistance around CV and Personal Statement writing  for submission for education  or work opportunities. . This is run by one of our Volunteers.
With the experience of long term recovery in the management committee we are able to inform and signpost members to mutual aid partnerships in the borough and also give advice, guidance and support on how to handle housing, benefits, legal or family court matters through our own practical experience.
We also succeed in directing clients seeking treatment to the appropriate service and assist in getting people to those services.
Strong links into family support services in the borough mean we can also give guidance to family members seeking understanding of the issues around addiction.